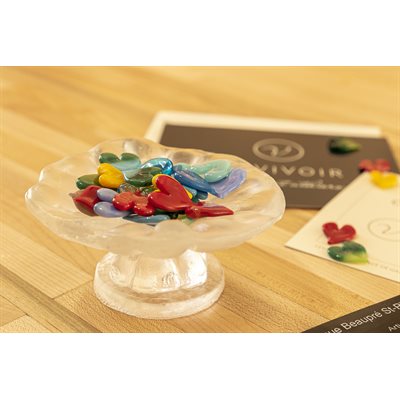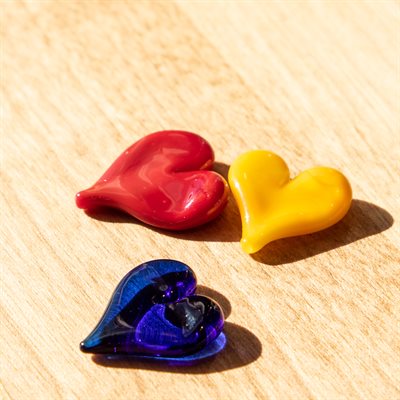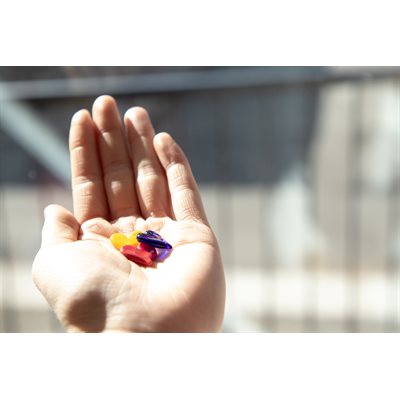 Press and move to zoom.
Mouse over image to zoom.
Description
The glass mini hearts of Dominica are the perfect lucky charm!
Easy to hang out, your little heart can follow you everywhere, and you're lucky.

This small symbolic item is also a very good gifts, and fits perfectly in our gift certificate envelopes!

Varied color, you will be prompted to select your favorite color!
Given the artisanal nature of the pieces proposed, we remind that it is likely that there are slight differences between the pieces of a same lot. This is what creates the authenticity of the handmade work! Do not hesitate to contact us if you need more information about our products!



---
Learn more about the artist
Dominique B. St-Pierre
Saint-Roch-Des-Aulnaies
I studied visual art at the Nova Scotia College of Art and Design, in Halifax. At that time, I was interested in photography, which I integrated into my sculptural ideas. It is when I discovered glass, a few years later, that I found my true matter of expression… the one that inspires, fascinates and challenges me!
My imagination is influenced by the process of glass transformation, but also by the strength, delicacy and renewal capabilities of nature. My current work consists of living sculptures in which plants become a medium of expression just like glass. Through these sculptures, I try to evoke the relation between people and the environment. I'm interested in the traces left by my interventions. My sculptures are also an invitation to look at what is hidden: because behind every process there is a story.
---
Shipping
Delivery: We deliver to Quebec, Canada, the United States and most countries in the world. If no delivery option is available for your address, contact-us and we will provide you with a custom estimate!

Calculation of delivery costs: The delivery price is calculated automatically by our system according to the weight and dimensions of the works in your shopping cart as well as according to your address. This calculation is done when you click See my cart or Place order. At this stage, the order is not confirmed and it is still possible to modify, add or remove items from your cart.

Packaging: We pack the artworks with great care, most of the time with recycled materials, since the planet is as important to us as the effulgence of the quebec fine art crafts! We use foam, paper or bubble wrap to protect your purshase which will then be placed in a cardboard box. Canvas are also protected with cardboard corners and kraft paper.

Return Policy: We want you to have a real crush on your new artwork! If this is not the case, we will be happy to exchange your purchase within 30 days of the date of purchase. To do so, the artworks must be returned to us at your expense, intact and in their original packaging. Consult all the details on our FAQ.
---
Product Code: DOB-COE-001
Availability: This creation is waiting for you!