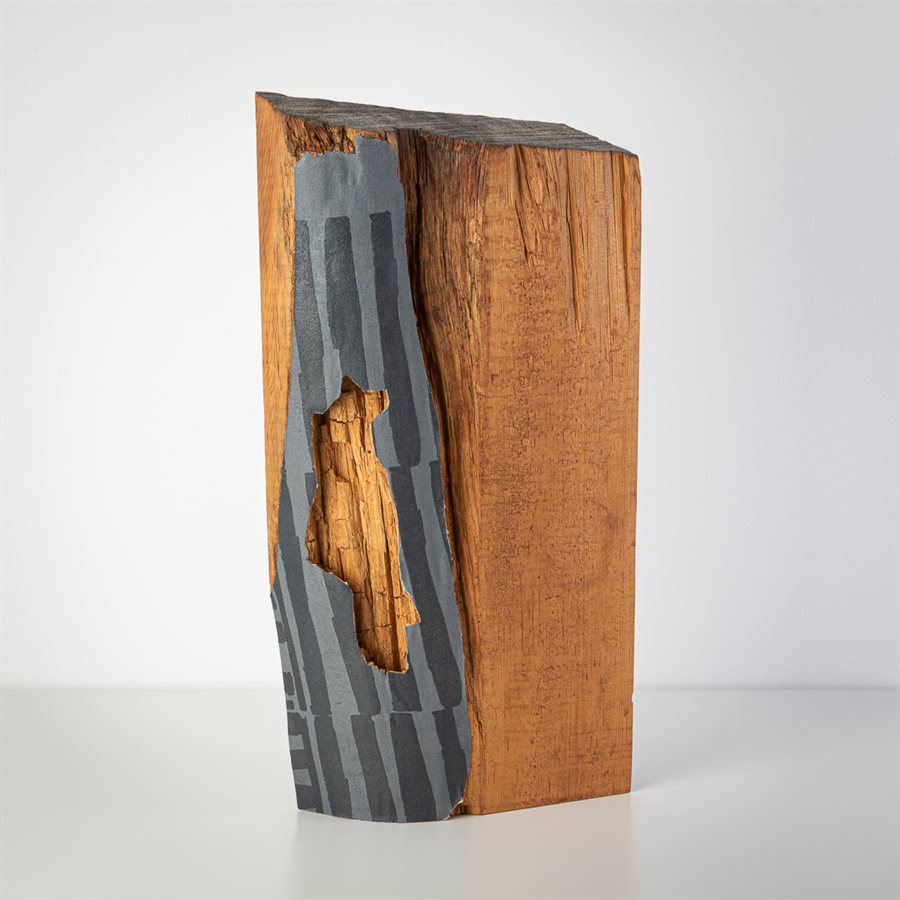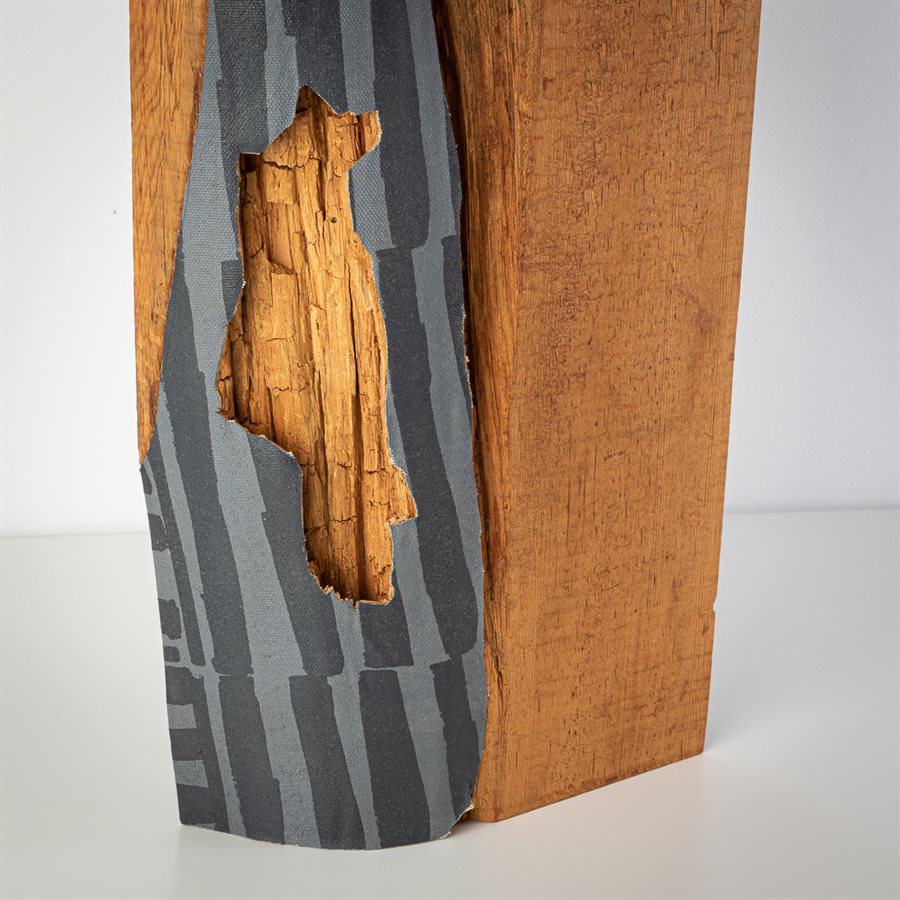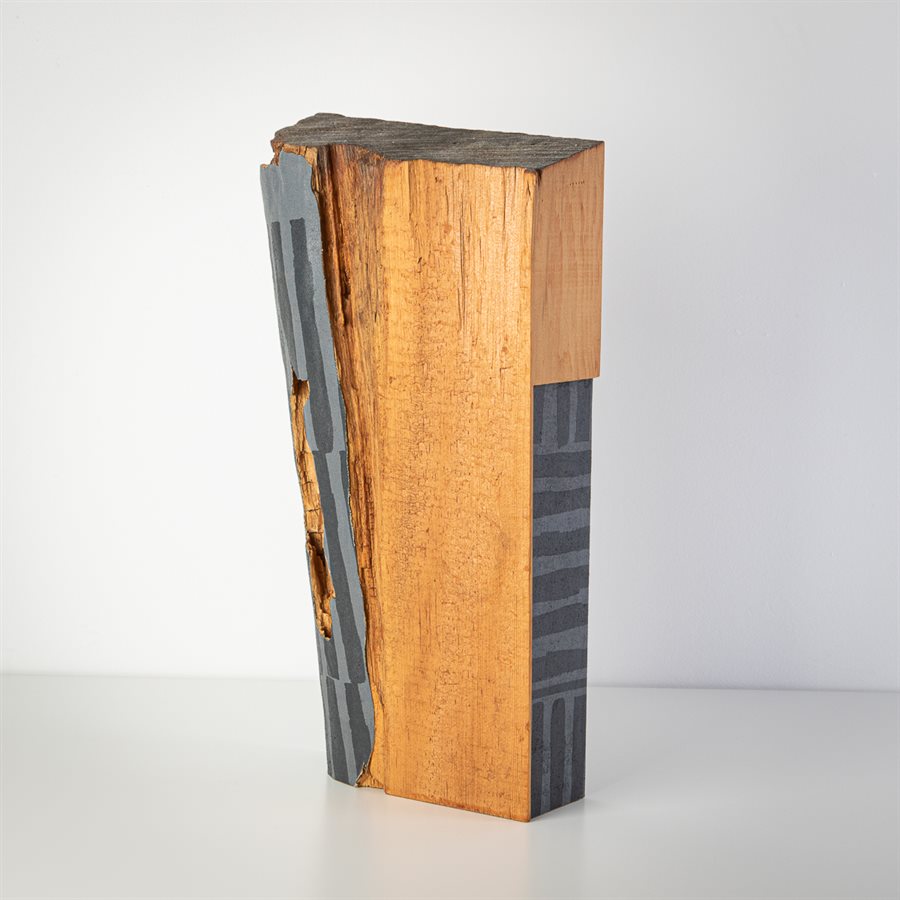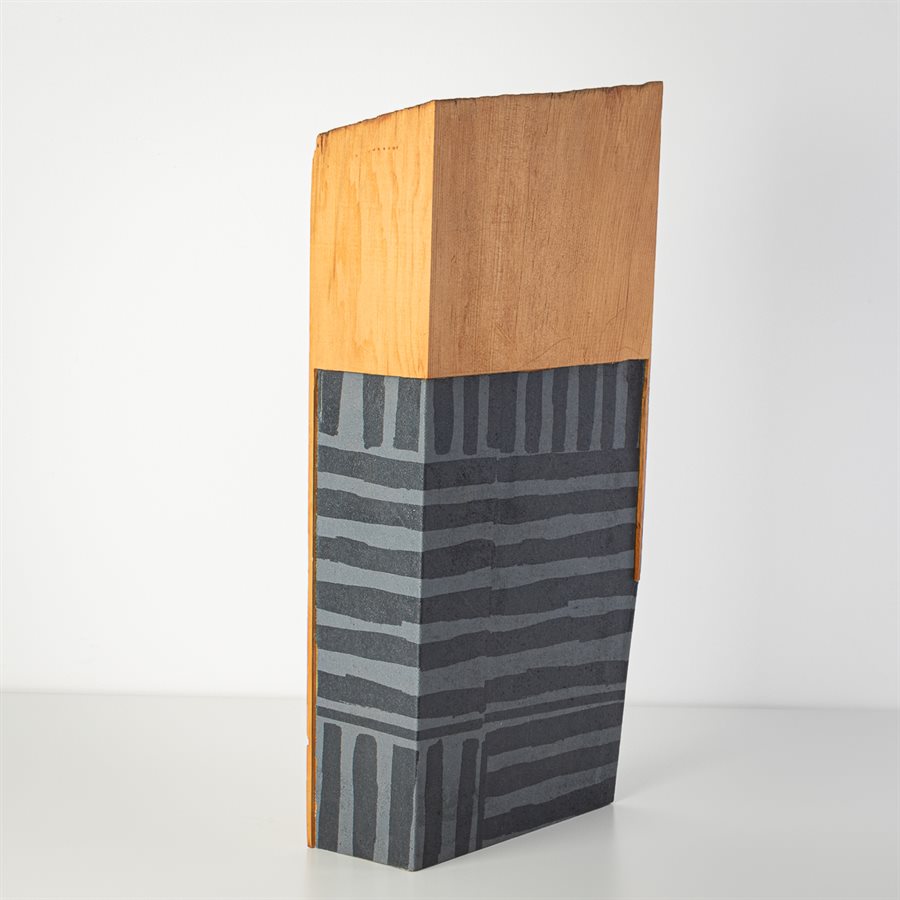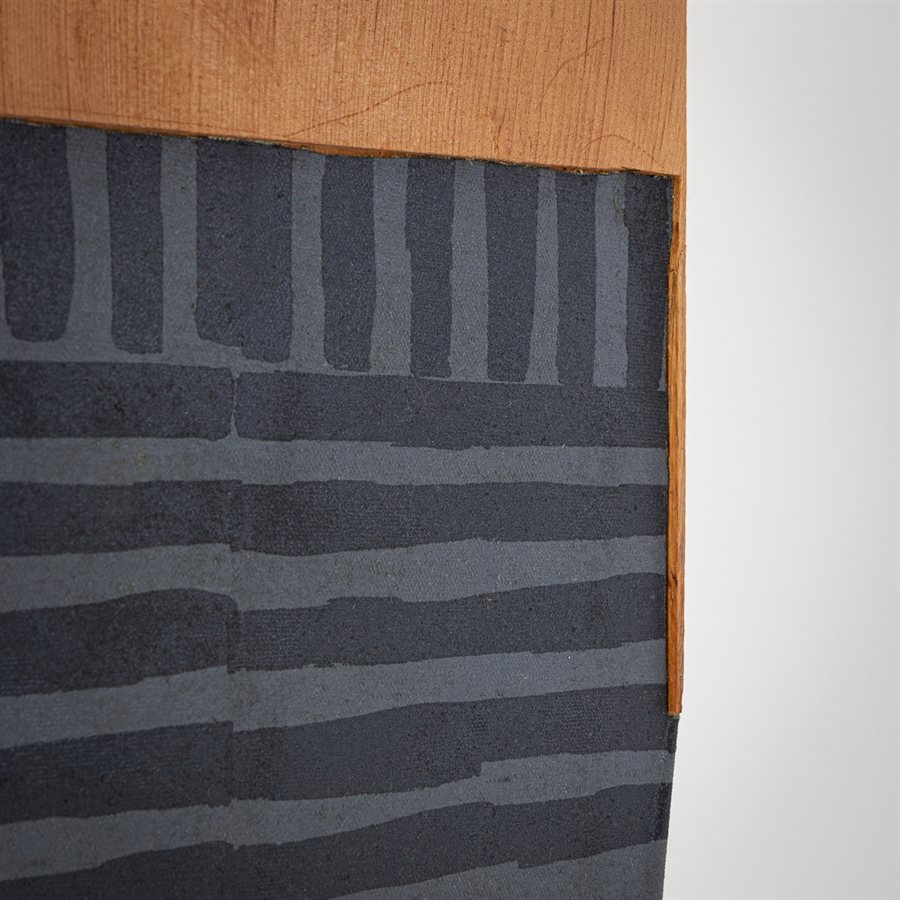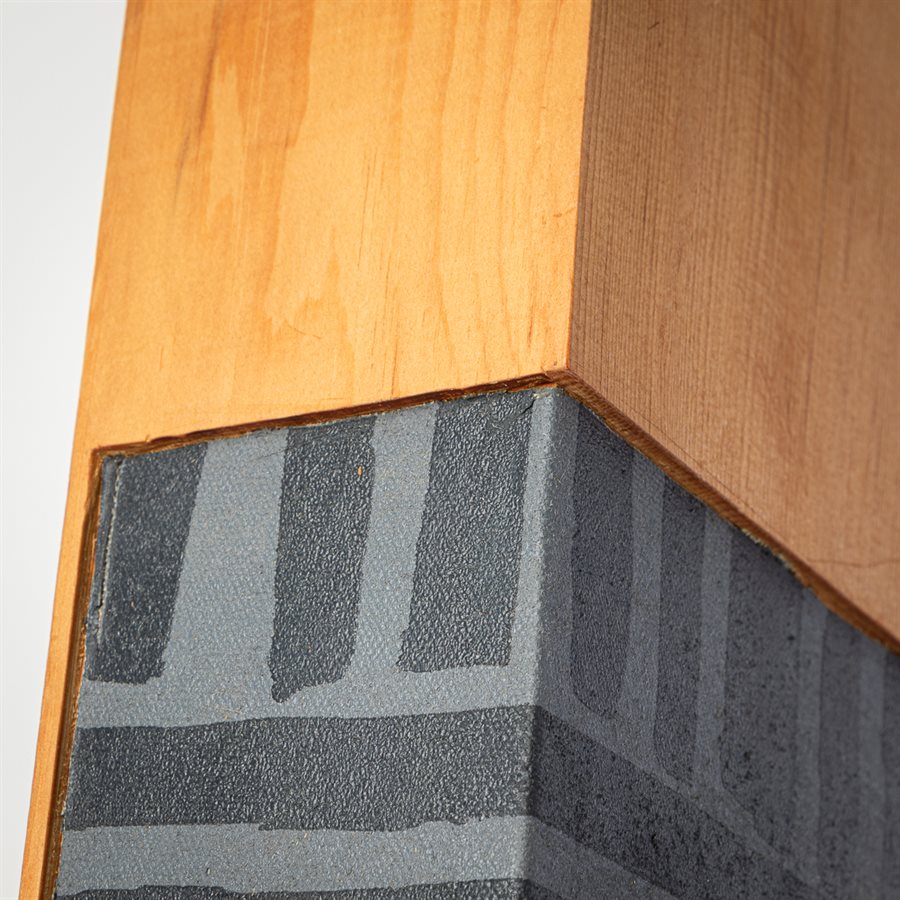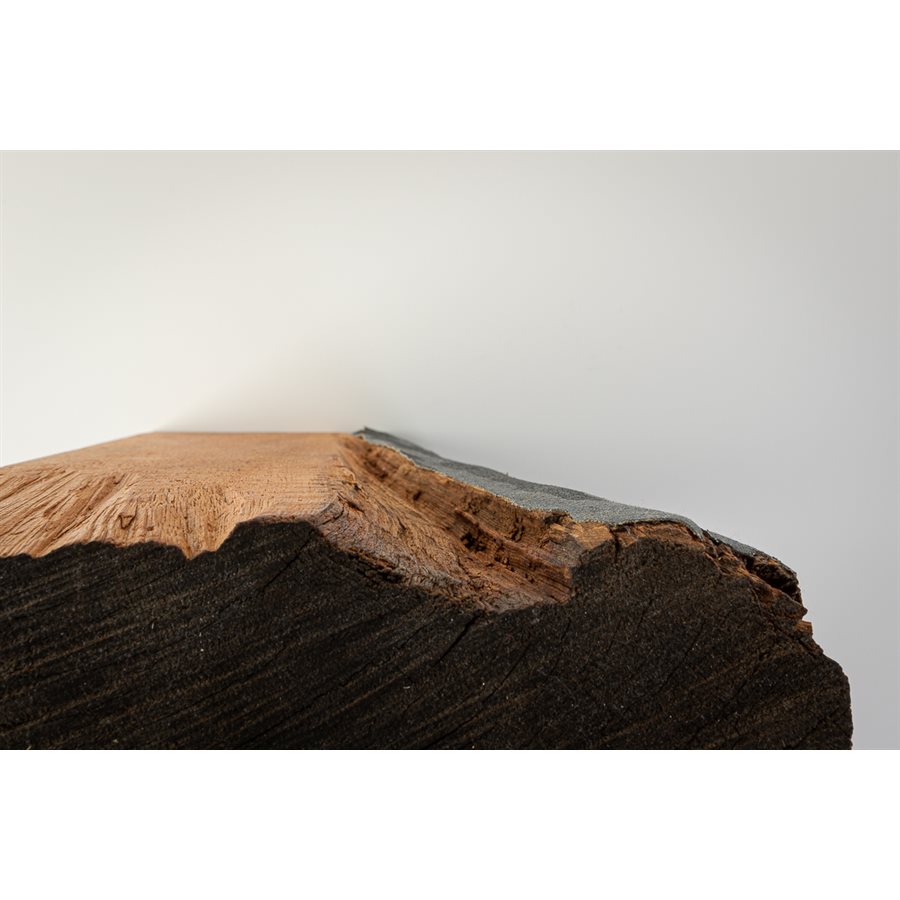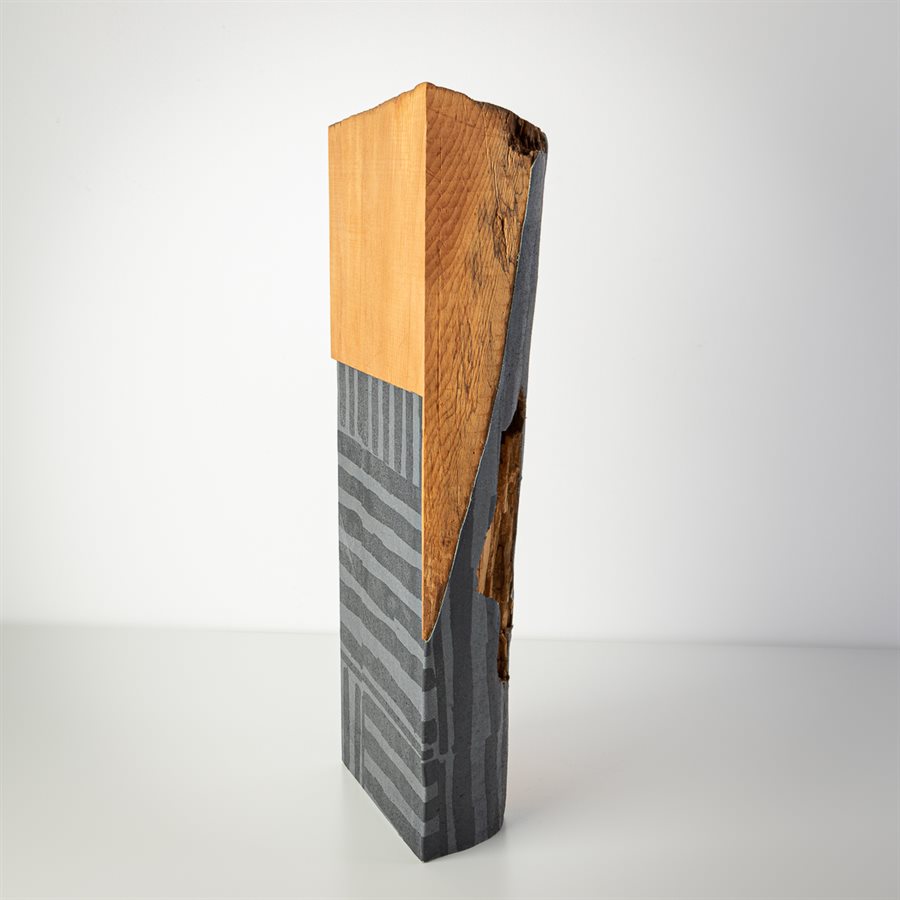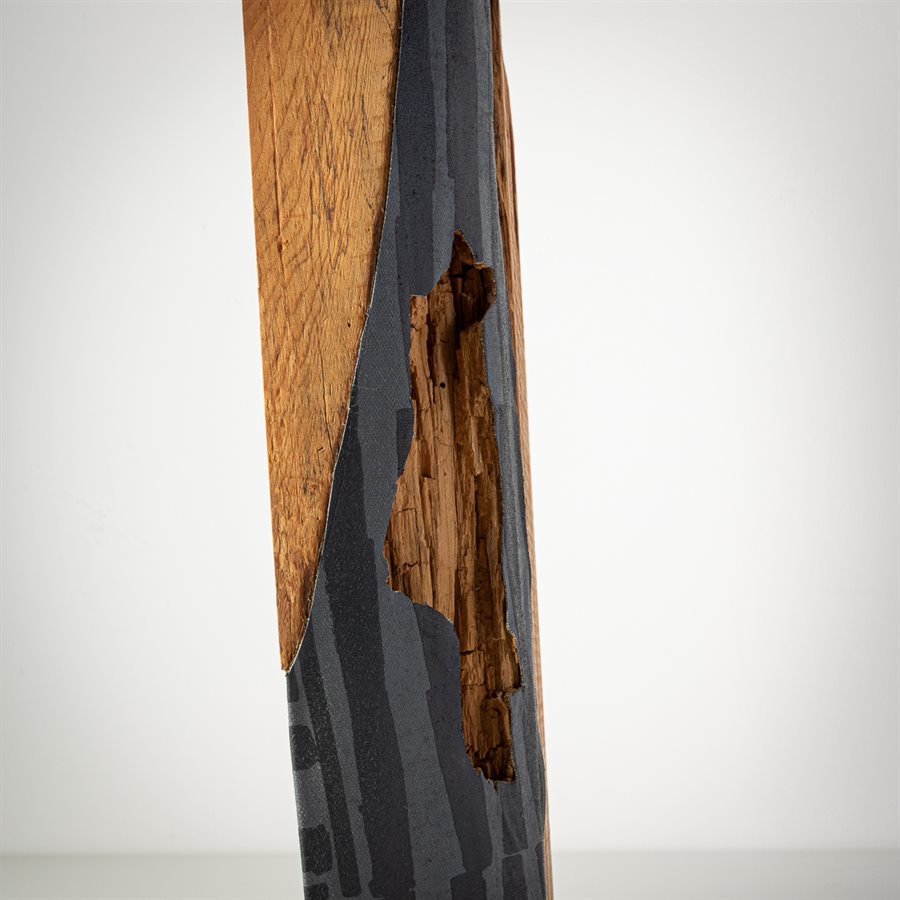 Press and move to zoom.
Mouse over image to zoom.
Description
Self-supporting sculpture on red pine from a barn beam, adorned with a piece of hand-screened Belgian linen.

The artist Sébastien Lajoie takes pleasure in dressing his wood sculptures, with his large linen draperies on which he creates hand-screened patterns. In his universe filled with lines, contrasts and play of shadows and light, Sébastien plunges us into the raw textures of aged wood. Sometimes natural, sometimes worked by the artist, each mark tells a story that brings us to the next one.

The artwork Study # 2 is one of the first made by the artist with this technique and these materials.

The sculpture will advantageously find its place on a coffee table in the living room! 
---
Learn more about the artist
Sébastien Lajoie
St-Alexandre-de-Kamouraska
Attracted by physical work and by the acuity of strength movement, I quickly loved the screen printing on textile. I find this feeling there, when the blade passes over the silk with the resistance of the ink, a thick and dense plastisol.
I started by printing abstract patterns on clothes, leading to the creation of Agence Orange 21. I then used canvas mounted on a false frame, printed with rhythmic patterns within a production artistic that I was going to broadcast. Then, I end up developing an interest in textiles, particularly in grain and spinning, which have a great influence on the result of printing. By these details of fabric construction, my "screen-printed" images have been transformed and are more like weaving processes, always imbued with a system and mechanics.
In addition to my screen-printing research, I have always worked with wood, for the same reasons: the physical work of precision and the undeniable trace of action on thought. Wood leaves no chance, especially the stumps of rotten trees, which are always the first pieces to attract me. At the beginning, I worked the material with engravings, allowing me to wrap it, to distort it and make it less organic. Then, I started to use my printed fabrics to dress my sculptures as a designer would.
Sometimes I see huge organic and futuristic buildings, other times the influence of African art ... I like that my creations have several languages and several impressions at the same time.
Marriage, contrast, paradox and sensitivity, so many possibilities open up to this search for transcendence over matter, over color, in connection with this association of wood and textile according to principles of construction and mechanics in an esthetic determinant.
---
Shipping
Delivery: We deliver to Quebec, Canada, the United States and most countries in the world. If no delivery option is available for your address, contact-us and we will provide you with a custom estimate!

Calculation of delivery costs: The delivery price is calculated automatically by our system according to the weight and dimensions of the works in your shopping cart as well as according to your address. This calculation is done when you click See my cart or Place order. At this stage, the order is not confirmed and it is still possible to modify, add or remove items from your cart.

Packaging: We pack the artworks with great care, most of the time with recycled materials, since the planet is as important to us as the effulgence of the quebec fine art crafts! We use foam, paper or bubble wrap to protect your purshase which will then be placed in a cardboard box. Canvas are also protected with cardboard corners and kraft paper.

Return Policy: We want you to have a real crush on your new artwork! If this is not the case, we will be happy to exchange your purchase within 30 days of the date of purchase. To do so, the artworks must be returned to us at your expense, intact and in their original packaging. Consult all the details on our FAQ.
---
---
Study #2
Silkscreen on wood sculpture
Product Code: SEL-SCU-004
Availability: This creation is waiting for you!
You may also be interested in