2022.11.18 - Opening of the exhibition
Equilibrium
by artist Ute Wolff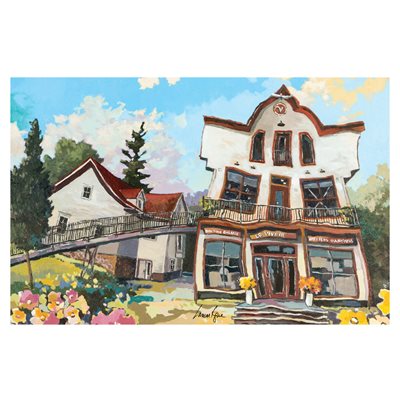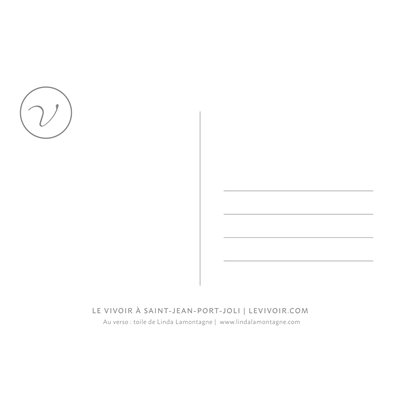 Press and move to zoom.
Mouse over image to zoom.
Description
The pieces we exhibit often dance before our eyes in all their magical and now, the building is dancing too thanks to the painter Linda Lamontagne.

We collaborated with her in the summer of 2019 to create an oil painting representing Le vivoir animated by Linda's sweet extravaganza ! Her work was then declined as a postcard that we offer here.

We also have many other surprises to come for you in connection with this painting ...!


5 x 7''

Find out more about Linda Lamontagne: http://lindalamontagne.com/
---
Shipping
Delivery: We deliver to Quebec, Canada, the United States and most countries in the world. If no delivery option is available for your address, contact-us and we will provide you with a custom estimate!

Calculation of delivery costs: The delivery price is calculated automatically by our system according to the weight and dimensions of the works in your shopping cart as well as according to your address. This calculation is done when you click See my cart or Place order. At this stage, the order is not confirmed and it is still possible to modify, add or remove items from your cart.

Packaging: We pack the artworks with great care, most of the time with recycled materials, since the planet is as important to us as the effulgence of the quebec fine art crafts! We use foam, paper or bubble wrap to protect your purshase which will then be placed in a cardboard box. Canvas are also protected with cardboard corners and kraft paper.

Return Policy: We want you to have a real crush on your new artwork! If this is not the case, we will be happy to exchange your purchase within 30 days of the date of purchase. To do so, the artworks must be returned to us at your expense, intact and in their original packaging. Consult all the details on our FAQ.
---
Product Code: VIV-P-CAR-001
Availability: This creation is waiting for you!