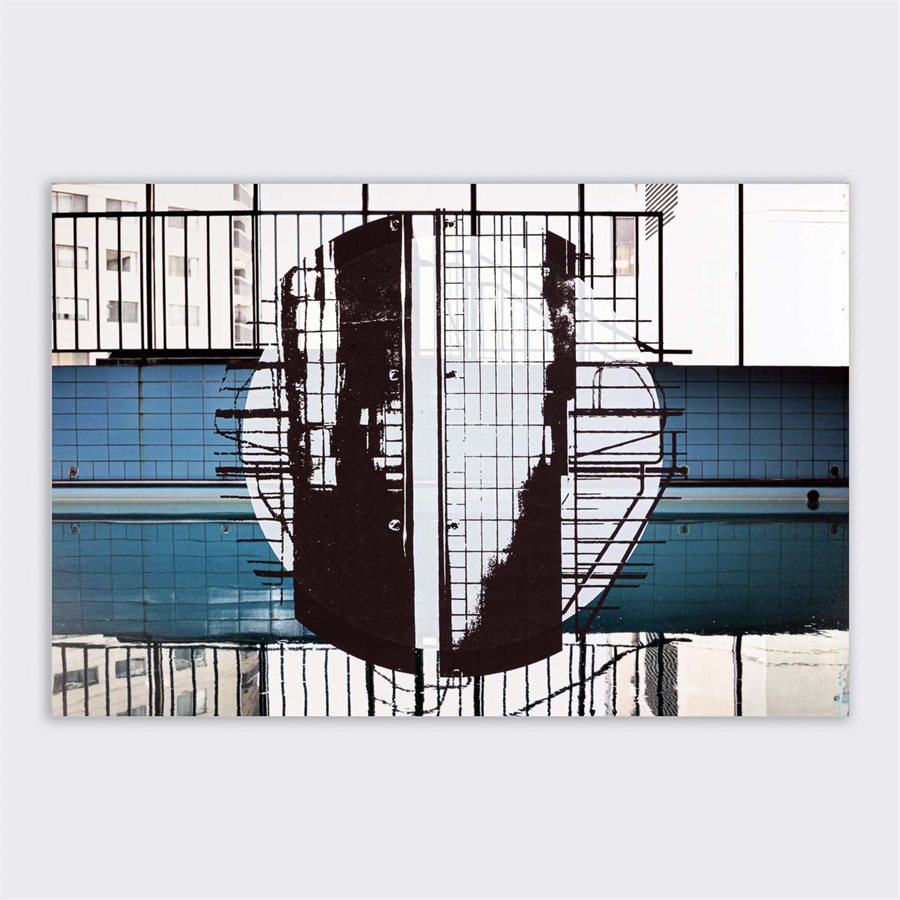 Press and move to zoom.
Mouse over image to zoom.
Description
Screen printing on photo
Canon Satin Photo 240 gsm Photo Paper
Unique artwork
6,75 x 10''
Sold unframed, in a plastic protective sleeve
The artwork is accompanied by its certificate of justification of the original print.
---
Creation process
Karine Dezainde practices screen printing on paper and photos. Thanks to her atypical background, she has been able to nourish her creations with all the beauty and richness of interdisciplinarity.

The refine geometric shape and symmetry are at the heart of her works. The subject, always centered and alone, calls out the idea of loneliness which anchors the observer, plunges him into the center of himself, in a soothing vulnerability. The contrast between background and form refers to the individual's perception of his environment, questions him about his position in society.

Let yourself be transported into these calm and soothing atmospheres that the artist knows so well how to create! 
---
Learn more about the artist
Karine Dezainde
Quebec
Karine Dezainde's artistic practice mix screen printing, painting, photography, video and augmented reality
Her work is part of a dimension of the perception of the individual facing his environment. She builds probable and improbable environments that question us about our position in society. She explores a lot the relationship between form and content in a geometric and refined visual language.
Her creations are presented as a call to reflection, both from a human, spiritual and aesthetic point of view.
---
Unframed artwork
Our unframed paper works are sold in plastic protective envelopes designed expressly for the artwork. Your new acquisition will therefore be sent to you in complete safety.
The artwork is slipped into an acid-free plastic envelope with stiff cardboard on the back to prevent any curl in the paper. This envelope is then sealed so that the work remains intact and without contact with dust.
Since the plastic envelope are acid-free, you will be able to keep the artwork in its packaging for several years (or even decades!) without fear of the artwork deteriorating. So you can take the time to choose the perfect frame for your new favorite artwork !
Despite our desire to minimize the use of polluting packaging, unfortunately we have not found yet other solutions to properly protect paper works. However, we are always on the lookout for ways to contribute to the well-being of our planet!

Importantly, paper works should never be placed in direct sunlight, which would deteriorate the colors, despite the protective plastic envelope.
---
Shipping
Delivery: We deliver to Quebec, Canada, the United States and most countries in the world. If no delivery option is available for your address, contact-us and we will provide you with a custom estimate!

Calculation of delivery costs: The delivery price is calculated automatically by our system according to the weight and dimensions of the works in your shopping cart as well as according to your address. This calculation is done when you click See my cart or Place order. At this stage, the order is not confirmed and it is still possible to modify, add or remove items from your cart.

Packaging: We pack the artworks with great care, most of the time with recycled materials, since the planet is as important to us as the effulgence of the quebec fine art crafts! We use foam, paper or bubble wrap to protect your purshase which will then be placed in a cardboard box. Canvas are also protected with cardboard corners and kraft paper.

Return Policy: We want you to have a real crush on your new artwork! If this is not the case, we will be happy to exchange your purchase within 30 days of the date of purchase. To do so, the artworks must be returned to us at your expense, intact and in their original packaging. Consult all the details on our FAQ.
---
Water space 1
Unframed silkscreen on photo
Product Code: KAD-SER-007
Availability: This creation is waiting for you!